Welcome to Platte Valley Goats
Welcome to Platte Valley Goats, home of Marty, Abby, Bill, Katie and Garrett Bunde (pronounced Bun-dee).
Our farm is located in the Platte River Valley in Central Nebraska. The Platte River historically has the distinction of being
"a foot deep and a mile wide," and is now associated with the Sandhill Crane bi-annual migration. Thousands of
crane watchers pass through our area every year and we get a front row seat to watch both birds and watchers
from our goats pens!
Our goat herd started like most with a 4-H project, a wild Alpine doe picked up at a sale barn and bred to the only
purebred buck nearby, which happened to be a LaMancha. We started our search for a better quality goat with
a subscription to United Caprine News. The ad that caught my eye was an outstanding rear view of four LaManchas:
The South-Fork LaMancha herd located only a day's drive away in Lyons, Colorado. I picked out a buck on-line
and we drove out to pick him up. When we arrived Marilou Webb gave us the tour and she had a doe that took
my breath away: SGCH Cash-Farm Truffles. Truffles is still the most smoothly blended doe I have ever seen.
Truffles had a Linear Appraisal score of 89 VEEE as a milking yearling which sounded pretty good as well.
A call back home to Marty, and Truffles was my Mother's Day present that year. Marilou had another small
doe she let us take home to keep Truffles company, South-Fork Zena. So we drove out for one buck and came
back with a very nice starter herd.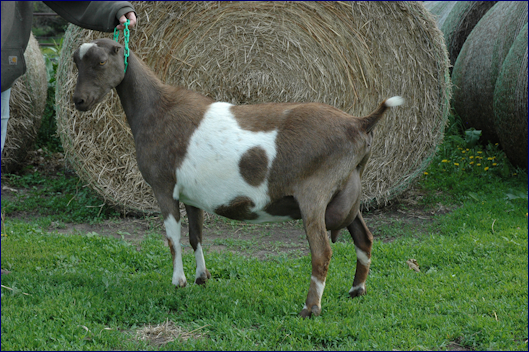 Beautiful udders with outstanding milking ability remain our #1 goal, but we also very much appreciate a beautiful smoothly blended goat to look at as well. Our herd today is most heavily influenced by the South-Fork and Lucky*Star herds.
2007 Reserve National Champion SGCH South-Fork Charming Cate can be found back in many of our pedigrees.
Our entire herd is tested CAE-negative and we try to test annually. Kids are pulled at birth and we prefer the
kid have no contact with the dam at birth. Kids are raised on heat-treated colostrum and pasteurized milk until 12 weeks
of age. Prairie hay and a pelleted complete ration are introduced in the first few weeks.

2017 was our first year on DHIR milk testing. We are excited to see the results and will post the data on
individual does pages when available.
2017 was also our first time with does going to the ADGA National Show in Wisconsin. We did not personally
attend Nationals due to work schedules, but sent two Recorded Grade does (Purebred LaManchas with an
unknown/whose-your-daddy LaMancha buck in their pedigree) with our friends Susan, Kelly and Delaney
Schmer of Whimsical Kids Nubians. Those 2 does placed 4th and 9th in the Senior Yearling class. We are very

proud of these 2 does (mostly grateful they made the cut!) and many heartfelt thanks to the Schmer family for showing them so well.
We participated in Linear Appraisal in 2017 as well (it was a busy year!) and were very happy that all of our Senior Platte Valley does appraised at 88 or higher. You will see that some does carry the Meadowlark herd name. Meadowlark is my (Abby's) individual herd name, and we have just a few does under Meadowlark.
Meadowlark does were not appraised this year, but are every bit as competitive as the Platte Valley does in the show ring.

Please have a look through our website and let us know if you see something you like!


The Bunde Family
Marty, Abby, Bill, Katie and Garrett
7515 West Platte River Dr.
Doniphan, NE 68832
402-744-2551
bundea@hotmail.com