Welcome to Platte Valley Goats, home of Marty, Abby, Bill, Katie, Garrett and Paxton Bunde ("Bun-dee"). Our farm is located in the Platte River Valley in Central Nebraska. The Platte River historically has the distinction of being "a foot deep and a mile wide," and is now associated with the Sandhill Crane bi-annual migration. Thousands of crane watchers pass through our area every year and we get a front row seat to watch both birds and watchers from our goats pens!
Our goat herd started like most with a 4-H project, a wild Alpine doe picked up at a sale barn and bred to the only purebred buck nearby, which happened to be a LaMancha. We started our search for a better quality goat with a subscription to United Caprine News. The ad that caught my eye was an outstanding rear view of four LaManchas: The South-Fork LaMancha herd located only a day's drive away in Lyons, Colorado. I picked out a buck on-line and we drove out to pick him up. When we arrived Marilou Webb gave us the tour and she had a doe that took my breath away: SGCH Cash-Farm Truffles. Truffles is still the most smoothly blended doe I have ever seen. Truffles had a Linear Appraisal score of 89 VEEE as a milking yearling which sounded pretty good as well.
A call back home to Marty, and Truffles was my Mother's Day present that year. Marilou had another small doe she let us take home to keep Truffles company, South-Fork Zena. So we drove
out for one buck and came back with a very nice starter herd.

Beautiful udders with outstanding milking ability remain our #1 goal, but we also very much appreciate a beautiful smoothly blended goat to look at as well. Our herd today is most heavily influenced by the South-Fork and Lucky*Star herds. 2007 Reserve National Champion SGCH South-Fork Charming Cate can be found back in many of our pedigrees.
Our entire herd is tested CAE-negative and we try to test annually. Kids are pulled at birth and we prefer the kid have no contact with the dam at birth. Kids are raised on heat-treated colostrum and pasteurized milk until 12 weeks of age. Prairie hay and a pelleted complete ration are introduced in the first few weeks.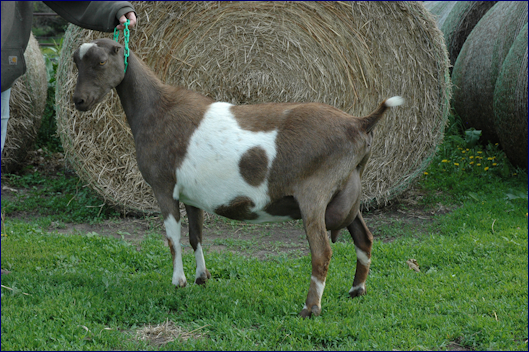 In 2019, Nebraska saw unprecedented rains. Our dairy barn flooded and we had a massive clean up to do from the flood. We thought surely 2020 will be better. It's difficult to describe the disappointment in not having the National Show come to Grand Island for the first time in 2020. The Nebraska Dairy Goat Association was scheduled to host the show and our club has been planning for the event and raising money for several years in anticipation of the show. Many of us had planned special breedings and breeding dates in 2019 with the 2020 National show foremost in our minds.
Here at Platte Valley Goats we did our first Laparoscopic A.I. on 4 does and must have had beginner's luck with 100% conception rate. Trix was Lap A.I.'d to Blue Moon Ranch PT Heart Throb and surprised everybody with a healthy set of quads, 3 does and 1 buck. Kat Ballou, Waikiki and Contessa each had bucks so we are heavy with some really nice Jr. Herd sires for fall 2020. Every one of them is a *B!! We also acquired an exciting new Jr. Herd sire from Raintree-Calico Dairy Goats. Check out our new pages for *B Calico Fields Q Quincy, *B Platte Valley VTO Jukebox Hero and *B Meadowlark River Tach. (We register under both Platte Valley and Meadowlark herd names).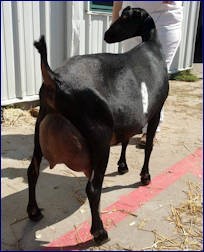 Just when you think 2020 was a complete wash, we did attend one show in 2020, the Flatwater Classic in Weeping Water, Nebraska, and Waikiki was able to finish her Championship against some very tough competition.
2021 turned out to be a rewarding year. Karma got 2 championship legs and topped our milk production peaking at 19.9 pounds, a Platte Valley record. Kat Ballou won her first leg and junior doe, Ocarina, took home some wins at big shows. The big reward in 2021 was our first 3 daughters from Kryptonite freshening with outstanding udders. Sadly, we lost Kryptonite this spring as a result of fighting with another buck, outside of breeding season. He did give us 4 more daughters before he died and all 4 will be first fresheners in 2022, giving us a total of 7 milking Kryptonite daughters in the herd next year. Jukebox and River Tach each gave us some extremely pretty doe kids this year who did well in the show ring. We are excited to see what 2022 brings.
2022 gave us some happy surprises. Meadowlark Katamaran won her first championship leg and became our first yearling milker to win a championship. Kat Ballou, Katamaran's dam, got her 2nd championship leg and our juniors did very well also. Fortuna Major was Junior Grand Champion LaMancha in one ring at the Nebraska State Fair with Glorianna winning in the other ring. River Sprite was 2X Junior Reserve Grand Champion this year (always the bridesmaid, it seems!).

Please take a look around our website and let us know if you see something you like!